Staff Members that Support Oak Lawn Marketing
Daigo Oba Call Center Joined OLM in 2003
A corporate culture that encourages people to give it a go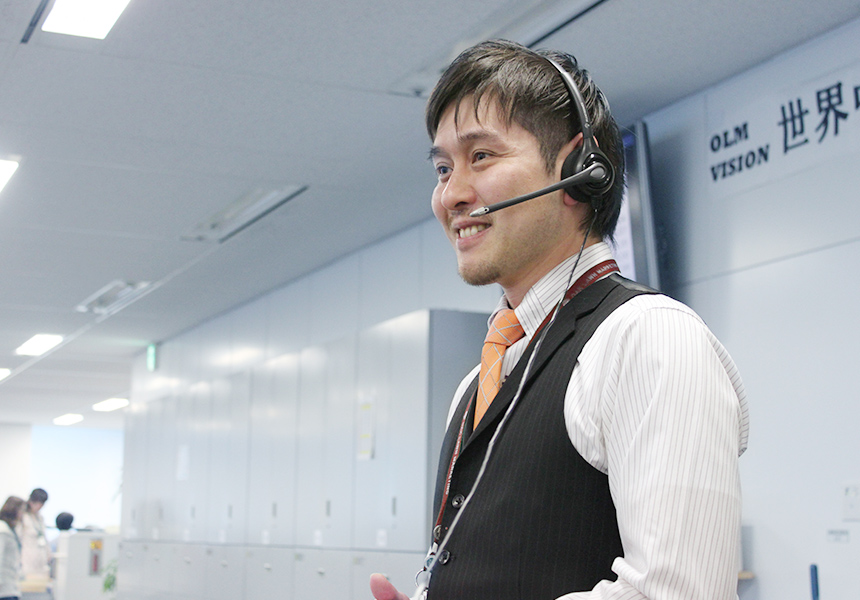 What can you tell us about your current work, in terms of your primary mission and roles?

I am the administrator of the call center that receives orders and inquiries from customers who have seen our ads on TV, on the Internet, or in newspapers. However, handling product orders and responding to inquiries is not the only thing I do. I believe that one of the most important parts of my job is to deliver that "WOW" factor to customers and make them feel a sense of hospitality in their dealings with our company.

What interesting or appealing factors do you think are unique to OLM?

The company culture at OLM lets you try different things. It encourages you to give things a go, without worrying about failing in the end. Of course you still need to keep extreme risks in mind.

How have your impressions of OLM changed since you joined, and what has made you glad you joined?

When I first joined the company, it was run by Robert W. Roche (who was the CEO and now serves as the Chairman), an American, and Tadashi Nakamura (who was the Managing Director and is now an advisor), a Japanese executive. I wondered which side was more prevalent in OLM, the Japanese side or the American side. After I joined OLM, I learned that the traits of both sides are equally prevalent, and that remains true today. The company has a very open atmosphere and values mutual respect.

If we are to achieve the WHY of Shop Japan, employees need to be happy. Based on this thinking, what specifically do you do to stay happy?

I dedicate my days off to playing with my two children, the oldest being six and the youngest four. This interaction reminds me of how much I want to treasure the time I spend with my family, and imparts a number of lessons. I put my heart and soul into the things we do together, try to come up with new things to do when we play, show my kids how to be considerate of others when they play, and try to teach them other things. I truly value areas in both my private and professional life that help me grow as an individual.

What advice would you give students and others hoping to work at OLM?

My advice is to make an effort to truly understand the values OLM cherishes. Many opportunities will come your way, but the important thing is to recognize them and take advantage of them. I encourage you to always think about the ways in which you can make yourself better and grow as an individual.