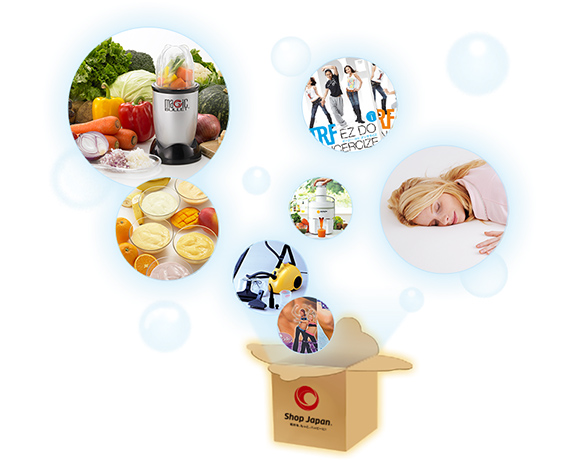 Oak Lawn Marketing accepts proposals for new products from all categories.
What is most appealing about mail order sales is that we can contact a large number of customers. OLM's infomercials are broadcast by many different stations across the country 24 hours a day, 7 days a week. We also operate numerous non-TV sales channels.
OLM's mission is to enrich lifestyles worldwide through the Shop Japan brand. To do this, OLM adopts an original concept that combines the best ideas, products, creativity, and elements of entertainment from around the world with Japanese values such as quality, service, and careful attention.
We have released a number of smash hit items predominantly through TV media. The next smash hit may be your product.
Register using the Entry Form to propose a new product and transform it into the next smash hit.
We welcome proposals of ideas for potential products.
We will provide support for selected ideas, from the concept stage until they become actual products.
Entry Form
Oak Lawn Marketing ranked first in the volume of infomercials aired.*
An infomercial is a TV shopping program that aims to convey detailed product information. Lasting anywhere from 5 to 30 minutes, an infomercial provides a detailed introduction to a specific product. Oak Lawn Marketing commands the top position in the industry in terms of the volume of infomercials broadcast. We also offer new forms of convenience and comfort to customers through different media, such as infomercials, and strive to put our corporate mission into practice to enrich lifestyles worldwide. We develop a sales strategy fully capable of achieving commercial success, and put it into action.
*Based on our own research on the broadcasting time of infomercials produced by Japanese companies and the number of times their infomercials are broadcast.
Post-decision sales support system
After decisions have been made on which products will be sold, we will extend complete sales support. Utilizing Oak Lawn Marketing's extensive know-how, we will create and execute a detailed marketing plan, which includes:
Product development through a wide variety of sales channels
We present the different aspects of TV shopping items from various angles.
By comprehensively conveying their appeal, we aim to boost recognition of our products. Infomercials are broadcast on nearly all stations across Japan. We also accept orders 24 hours a day, 7 days a week.
Website loaded with detailed product information and original content.
Our aim is to repeatedly show customers how a product works to increase their understanding of the product; allowing customers to learn more about products shown on TV and to order at their leisure.
Informative catalogs and direct mail for target customers.
Send catalogs, DM, leaflets and the like to customers who have purchased our products to increase their understanding of our products and services. Effectively utilize customer lists to optimize our target audience for DM.
Offer full service mobile sites.
Utilizing NTT docomo'smobile technology, we aim to offer customers more convenient mobile sites by developing our own contents.
A Wholesale plan that covers all distribution channels.
Expand sales through a wide variety of retail routes such as national GMS, electrical appliance stores, home centers and the like. We will help you extend the sales life of your product and encourage customer interaction through effective use of POP displays and other sales formats.
Total system support
Two domestic OLM-run call centers that operate 24/7, 365 days a year.
Through our inbound and outbound services we provide smooth order operations, and through Customer Service we have set up a system that allows us to obtain customer feedback for further product development.
Delivering high quality products quickly to customers through our Global Supply Chain.
We set up a quality control center in the logistic center of the world.Through this system we are able to offer our customers the safest and highest quality products.