Providing sustained, long-term assistance to help people stand on their own, many of our employees take part in volunteer activities. In doing so, they make valuable changes in people's lives.
Social contribution activities together with HOPE International Development Agency Japan, a certified non-profit organization
HOPE International Development Agency Japan ("HOPE") is working to provide long-term support to people living in the harshest circumstances, helping them escape the cycle of poverty, improving the standard of living of those in regions receiving aid, and helping them to eventually live free of outside assistance.
We fully endorse the aims of HOPE, and since 2002 have worked on joint social contribution activities. Some of our employees have taken part in study tours* digging wells and helping construct schools in Cambodia and in the Philippines.
Immediately after the Great East Japan Earthquake, we set up the Genki Japan Fund to provide medium- and long-term support for the reconstruction efforts in areas hardest hit by the disaster. We visited these areas and spoke with the people there to learn what kind of support they really needed, and continued providing aid to help them regain economic independence. Over a three-year period beginning in March 2011, we carried out 70 initiatives for emergency aid and support for economic independence in approximately 20 communities.
*A study tour is an overseas observation mission to discover first hand about the problems people face in developing countries, and to think about ways to help them escape poverty. HOPE provides empoverished people in developing countries with support for independence to help improve their living conditions. It also works to raise awareness of the need for international development among those living in developed countries in order to eradicate world poverty.
Activity Report: HOPE International Development Agency Japan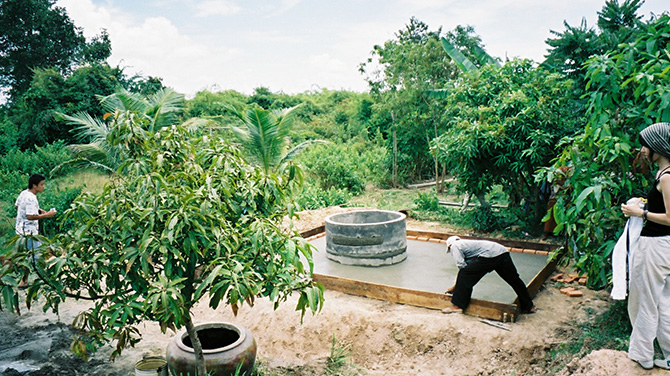 Yoisho Tohoku Project
Immediately after the Great East Japan Earthquake, we began providing support for personal independence in collaboration with HOPE International Development Agency Japan. Speaking with people in the affected regions, we realized there was a need for psychological support, so we decided to launch the Yoisho Tohoku Project, which aimed at helping these people stand on their own again. In the first stage, we donated 1% of the Wonder Core sales made between August 1 and August 31, 2014 to the Kokoro Smile Project, which provides for the psychological care of children in Ishinomaki City. In March 2015, the Kokoro Smile House was completed, and began serving as the center for the project's activities. Some of our employees visited the house in July to interact and play with the children. In the second stage, we will provide support to build a playground where children can play freely outdoors. We hope to reinvigorate the Tohoku region, and in turn revitalize all of Japan. We will continue with these support activities.