We operate a system in which we listen attentively to customers, and then swiftly reflect their feedback in product development and operational improvements.
VOC (Voice of Customers) Cycle
We work to continuously improve products and services by sincerely accepting customers' voices, such as their requests and opinions, so that customers can realize a rich lifestyle through Shop Japan's products and services.
#

1Listen to customers' voices
We listen to all requests and opinions that customers give us, via postcards or over the telephone. At events for interaction with users, customers and our managers and employees meet with each other and converse. We try to work closely with our customers to make thoughtful improvements.
Customers' voices
VOC postcards/call center/interaction events with users/group interviews with customers/website review/questionnaires
#

2All involved departments share and handle VOCs
In the VOC project, primarily led by the members of Communication Center, involved departments, such as the ones in charge of products, quality control, or service operations, promptly share opinions and requests that customers provide via points of contact and work to improve products and services.
#

3Sharing information within the whole company
Project members inspect and review the status of the improvement of products and services. Additionally, the whole company shares customers' opinions and subsequent improvement processes by email so that all employees can be conscious of their thinking and behaviors from the standpoint of customers.
#

4Verification of the effectiveness of improvements
After a product or service is improved, we verify effectiveness through various research methods. We examine whether VOCs are effectively used and utilize them in the subsequent development of products and services.
Actual examples of product and service improvements
We strive to actively reflect comments and requests from customers to improve products and services so that we can always provide them with something better.
Actual example 1:

Improving Cooking Pro

Cooking Pro is an electronic pressure cooker with which you can make proper meals by just putting ingredients in and pressing the button.
Having been developed in the U.K., the product's rich-cooking functionality has been improved to meet the requests of Japanese customers.
The internal pot has been coated to prevent cooked rice from sticking to the inside. A scale for measuring water has been added to facilitate rice cooking.
To increase operability, buttons have been changed for better visibility and ease of pressing.
A slow cook mode has been added. As a result, the product is capable of eight cooking methods.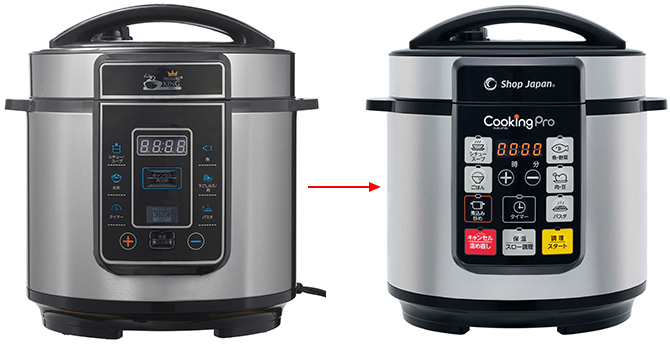 Actual example 2:

the preparation of a Turbo Scrub cleaning guide

Turbo Scrub allows you to clean your bathroom while standing upright, without crouching. Some customers who bought the product told us that they were unclear on how to charge the Turbo Scrub, and that they didn't know how to clean a bathroom. To respond to their voices, we used photos to explain how to charge the product, and enclosed a cleaning guide explaining how to choose the appropriate brush according to the object to be cleaned, and explaining points of cleaning.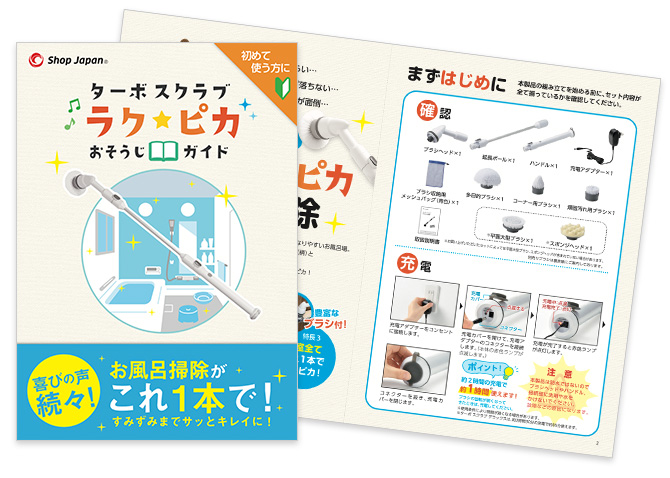 Actual example 3:

development and sale of a special handle for Squat Magic

Squat Magic is an exercise machine that helps you tone the lower part of the body by properly squatting. We developed a special handle for Squat Magic to prevent users from falling or losing balance, and stared to sell it as an accessary. Users are able to use the product without anxiety even if they are not very athletic or elderly.