Chill Factor to be sold in Japan! A revolutionary slushy maker which has sold over 3.7 million units(*1) worldwide
Oak Lawn Marketing, Inc. (HQ: Higashi-ku; Nagoya President & CEO: Harry A. Hill; Operations: shopping brand "Shop Japan") will launch, from late April, a slushy maker "Chill Factor" which has sold over 3.7 million units* worldwide.
*Sales period: January 1, 2013 - December 31, 2013

■About Chill Factor

●Easy to use even for kids. Just "Squeeze!"
Chill Factor is a revolutionary slushy maker which enables you to make your original slushies with your favorite drinks in seconds. Procedures are very simple: Freeze an original Chill Factor cup, add any cold drink, and squeeze the cup! Since Chill Factor does not require ice to make slushies, there is no worry that the ice will melt, making slushies too thin. So you can enjoy a delicious flavor until the last drop.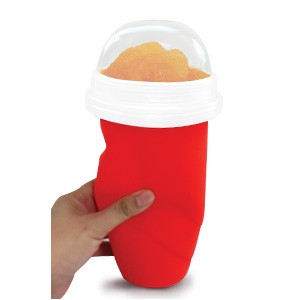 Product image: Chill Factor

【How to make】
1:Freeze an empty Chill Factor cup for about 4-6 hours in a freezer.
2:Remove the frozen cup from the freezer and add your favorite drink.
3:Squeeze the cup and in under a minute enjoy your refreshing slushy.

●Over 3.7 million units sold worldwide
Chill Factor has been sold in more than 30 countries in Asia, North America, Europe, Oceania, the Middle East and Africa. Just within a year, Chill Factor has sold over 3.7 million units (*1) becoming a hot selling product worldwide.

●Easy to clean
You can simply wash the cup in warm soapy water and keep it clean. Also, Chill Factor has a high cost performance as it can be re-frozen over and over again.

■Product information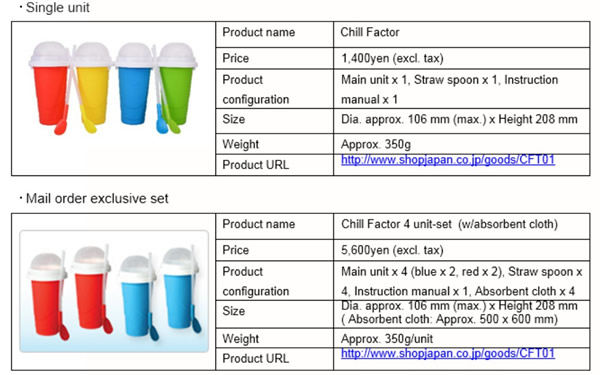 OLM continuously strives to provide services that meet every customer's need through various media forms to achieve its company vision of lifestyle enrichment.


For more information, contact our PR Section at Oak Lawn Marketing, Inc.

TEL: +81-3-6746-0324FAX: +81-3-6274-5324
E-mail:pr@oaklawn.co.jp
URL:www.shopjapan.co.jp