"True Sleeper" which ensures "quality sleep" will launch a special website "Sleeper." to provide sleep-specific contents.
Oak Lawn Marketing, Inc. (HQ: Higashi-ku; Nagoya President & CEO: Harry A. Hill; Operations: shopping brand "Shop Japan") will launch a website "Sleeper." that provides various sleep-related contents from May 16, 2014.

                  URL:http://sleeper-zzz.jp/
■Background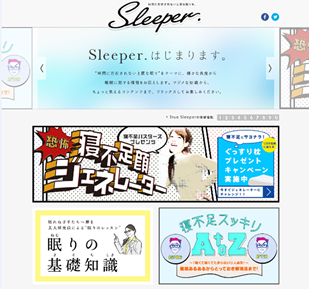 Japanese are said to have short hours of sleep and according to the Japanese Time Use Survey conducted in 2010, sleeping time in Japan has been decreasing since 1970's. Furthermore, Shop Japan conducted a questionnaire survey on sleep and found that 33.5%(*1) of respondents are not satisfied with their current sleep quality.

Shop Japan's True Sleeper overlay mattress series is a brand that provides solutions to sleep-related problems such as having trouble falling asleep and suffering from neck, shoulder and lower back pain.

With the hope of easing frustrations and troubles related to sleep, the True Sleeper will launch a special website "Sleeper." and offer valuable information to support people get quality sleep.

(*1): Questionnaire survey: Period: January 24-26, 2014, Subjects: Men and women aged 20 to 79 years old who live in Japan, Valid response: 1,036 (based on a survey conducted by OLM)

■Overview of the website:
"Sleeper." is a comprehensive website run by True Sleeper that provides various sleep-related information. The main theme of the website is to provide "quality sleep" for people with sleep problems. The website offers a wide variety of information from daily tips for overcoming sleep deprivation to funny sleep-related contents.

■Contents:
★Basic facts on sleep
Basic facts on sleep are explained in an easy-to-understand manner using illustrations and graphs.

★Tips for overcoming sleep deprivation
Problems related to sleep deprivation are shared by various types of people from office workers to housewives. Solutions to sleep deprivation and useful tools for better sleep are introduced.

★Free gift promotion
Shop Japan will launch a "Get-Better-Sleep Campaign: Say good-bye to sleep deprivation and win a hot-selling pillow!" from May 16, 2014 to June 22, 2014. True Sleeper Neck-fit Pillow will be offered to 1,000 participants as a gift.
Shop Japan will constantly update the "Sleeper." website content in pursuit of a better user experience.

【Reference】
The True Sleeper overlay mattress series offers "quality sleep" even for "side sleepers" who are less likely to be satisfied with their sleep due to experiencing shoulder pain.
The True Sleeper series offers a wide variety of appealing products such as high-, mid-, and low-resistance mattresses including the True Sleeper Premium which evenly distributes body weight with a low-resistance material "Ultra Viscoelastic".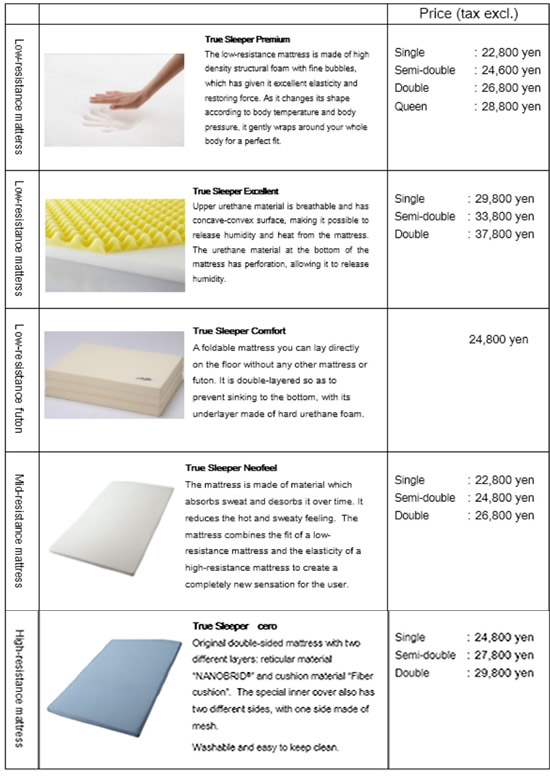 OLM continuously strives to provide services that meet every customer's need through various media forms to achieve its company vision of lifestyle enrichment.

For more information, contact our PR Section at Oak Lawn Marketing, Inc.

TEL: +81-3-6746-0324 FAX: +81-3-6274-5324
E-mail: pr@oaklawn.co.jp
URL: www.shopjapan.co.jp