Steam cleaning kills 99.9% of mites(*1). Oak Lawn Marketing to present test results of mite-killing effectiveness of "Shark Steam Cleaner."
Oak Lawn Marketing, Inc. (HQ: Higashi-ku; Nagoya President & CEO: Harry A. Hill; Operations: shopping brand "Shop Japan") would like to present results of a verification test conducted in February 2014 to assess mite-killing effectiveness of the "Shark Steam Cleaner All-in-1".

The actual test was conducted by ITEA Inc. (Institute of Tokyo Environmental Allergy). In the test, mites were exposed to steam injected from the Shark Steam Cleaner All-in-1 and the number of live and dead mites was counted to assess the mite-killing effectiveness.

Results of the test are presented below.

≪Summary of test results≫
Shark Steam Cleaner All-in-1proves to kill 99.9% (*1) of mites.

■Outline of the test■
Test period: February 24 -28, 2014
Test conducted by: ITEA Inc. (Institute of Tokyo Environmental Allergy)
Test product: Shark Steam Cleaner All-in-1

■Test details■
Test method: A specimen to which mites were adhered was fixed to the test subjects and then subjected to steam injection (*2).
Test subjects: Long pile carpet, inner part of futon (approx. 4 cm deep), and mattress pad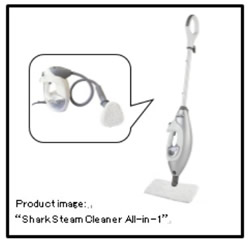 ■Test results■
Results: 99.9%(*1) of mites were killed.
(*1) Killing rate = Dead mite count / Total mite count x 100 (Test conducted using dermatophagoides pteronyssinus medium with natural death rate of lower than 7%.)
(*2) Steam applied to the long pile carpet and futon for 30 seconds and the mattress pad for 10 seconds.
*The results above are solely based on the test and do not represent results under actual conditions of use.
*It is recommended that an object applied with steam be dried completely and be vacuumed with a cleaner such as a vacuum cleaner to ensure dead mites are removed.
■Now showing online! A video which proves effectiveness of the steam cleaner for killing mites■
A microscopic video showing a comparison of the effectiveness of a steam cleaner and a vacuum cleaner in killing mites is now available from the following website.

URL:http://www.shopjapan.co.jp/goods/SSA01



1: Vacuum cleaner trying to remove mites.
The mites are not removed easily by a vacuum cleaner and are still holding onto carpet fibers.
2: A mite dying upon exposure to steam injection.
By being exposed to high-temperature steam, the mite has stopped moving and died.

■About Shark Steam Cleaner All-in-1
With super-heated dry steam of over 100 degrees Celsius(*3), the Shark Steam Cleaner All-in-1 loosens, lifts and locked-in dirt with microfiber pads. The cleaner uses regular tap water without requiring special detergent. With the press of a button, the Shark Steam Cleaner All-in-1 turns into a portable handheld steamer so that you can carry it with you anywhere and clean every part of your house. Since the Shark Steam Cleaner All-in-1 also eliminates house dust, it is also perfect for families with small kids.

The Shark Steam Cleaner All-in-1 does not only remove dirt, it sanitizes the floor while killing 99.9% of germs as demonstrated by the experiment below(*4).

(*3) Temperature at an inner nozzle outlet.

(*4) The experiment conducted by Japan Food Research Laboratories. Sanitization method: High temperature steam heating. Test method: Counted the number of bacteria based on the pour plate method using standard agar medium. Test subject: Wooden floor surface.

*Please note that this experiment is conducted only on Shark Steam Portable and thus no warranty is given that every kind of bacteria is killed by Shark series products.

OLM continuously strives to provide services that meet every customer's need through various media forms to achieve its company vision of lifestyle enrichment.


For more information, contact our PR Section at Oak Lawn Marketing, Inc.
TEL: +81-3-6746-0324 FAX: +81-3-6274-5324
E-mail:pr@oaklawn.co.jp
URL:www.shopjapan.co.jp