Careers | Year-round recruitment / Registration scheme

Our year-round recruitment and registration scheme optimizes recruitment opportunities.

We introduced a unique recruitment system so that we can be flexible in hiring qualified candidates.
We seek those who will join us in our mission of enriching the lives of our customers.
We seek people who have the five attributes below. If you have these qualities, we believe you will be able to play a significant role in working towards our goal of enriching the lives of our customers.Join us at Oak Lawn Marketing and fulfill your potential.
#1

Leadership

Be open to new challenges that arise by drawing on diverse thinking, and taking action in a way that inspires those around you to follow suit.
#2

Walk the talk

Demonstrate an ability to make proposals and put them into practice, to actively tackle challenges with a positive attitude, have big dreams and goals, and to responsibly see tasks to completion.
#3

Capacity to enjoy anything

Take an active interest in dealing with immediate tasks with a cheerful disposition, and approach work with an open mind and sense of humor.
#4

Freedom from convention

Constantly evolve and exhibit a flexible disposition to accept diversity and positively approach new things.
#5

WOW!

Deliver "WOW"! (exceeding expectations), awe and excitement to the company and society.
Year-round recruitment / registration scheme
Oak Lawn Marketing has ended its practice of only inviting applications when job openings occur and recruiting new graduates in a particular season. Instead, it has introduced a practice of recruiting each month.
We cannot meet outstanding human talent without being prepared to meet at any time. Instead of recruiting only when necessary, we organize monthly opportunities that enable us to meet those wishing to join us. We hold regular interviews, which are one-stop events that include company briefings, workshops and interviews. We also have a registration scheme* in which those who have passed the screening in a regular interview meeting, but for whom we do not currently have a suitable position available, are registered to coordinate the timing of joining us. To ensure that job applicants retain their enthusiasm and to avoid losing their skills and the chance of meeting them, we will carry out a final interview when we can offer a job opportunity for those willing to wait.
* At the time of entry, applicants are provisionally registered and as they pass the screening in an interview meeting, they will automatically be officially registered.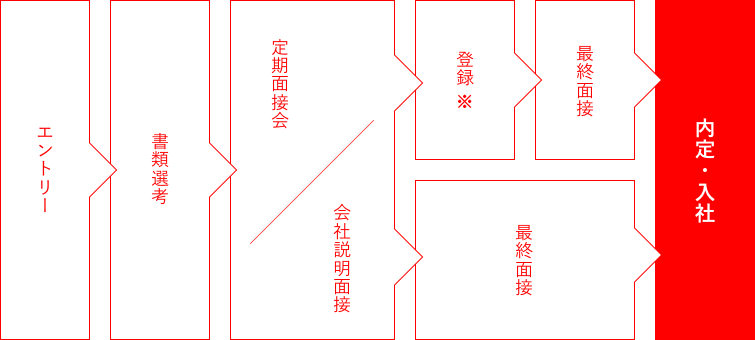 *Registration is valid for two years.
* A registered applicant is contacted for the final interview as soon as a suitable position becomes available.
Job application procedures