Staff Members that Support Oak Lawn Marketing
Tomomi Sakazaki Product Sales and Planning Joined OLM in 2006
Play hard when it's time to play, and work hard when it's time to work.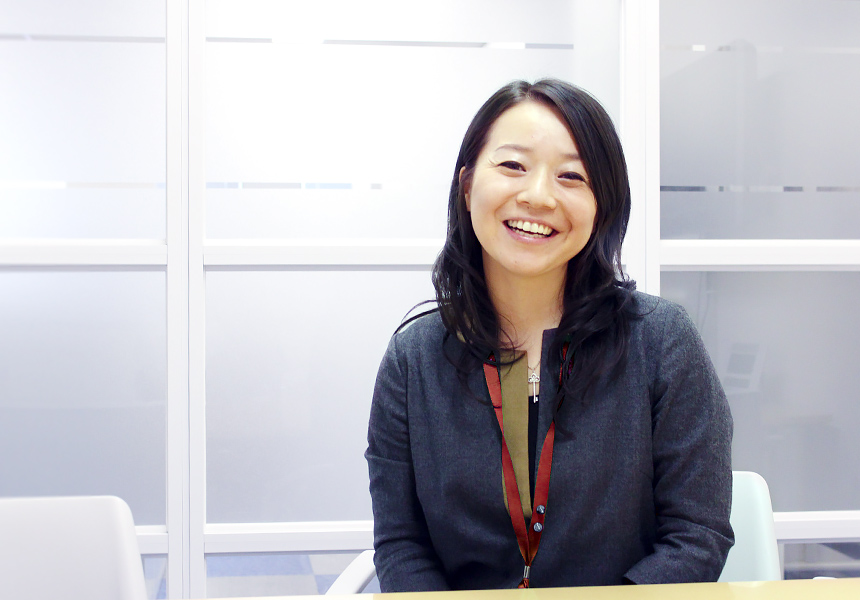 What can you tell us about your current work, in terms of your primary mission and roles?

My current section mainly sells products that help people lose weight, and offers services that help them lose weight more effectively. But weight loss is not our only focus. We're also developing new products and services tailored to helping our customers maintain their health and beauty, realize their dream of being happy, and allow them to be at their best.

What interesting or appealing factors do you think are unique to OLM?

At OLM, people can work together to tackle different issues. It doesn't matter if you're a man or woman, or how long you've been with the company. The companywide meeting and the Christmas party, the company's two main annual events, provide us with a chance to get together and exchange ideas with many other staff members, including people we rarely get to talk to on a daily basis. These events have team competitions in which people from different teams work together to tackle challenges. At these events, staff play hard when it's time to play, and work hard when it's time to go to work. Every year, I feel that is what Oak Lawn Marketing is all about.

How have your impressions of OLM changed since you joined, and what has made you glad you joined?

I originally joined the company because I felt its free and open atmosphere was perfect for me. After joining, I also learned that the more actively you commit yourself to your work, the greater the variety of work that comes your way. There's a lot to be learned through this process.

What has been your toughest challenge or required the greatest effort in your career?

For a while after I was transferred from the head office in Nagoya to the call center in Sapporo I worried a lot about my timid nature. I remember wondering whether I could really do what I was supposed to do. When it came time for me to go back to Nagoya, I was met with more thanks and sad farewells from my coworkers than I'd ever imagined. I really felt that they knew I had always tried to do my best, despite my limitations. This appreciation made me very happy.

If we are to achieve the WHY of Shop Japan, employees need to be happy. Based on this thinking, what specifically do you do to stay happy?

I take a long vacation and travel somewhere at least once a year.

What advice would you give students and others hoping to work at OLM?

There are many femail employees at OLM, and it creates an atmosphere in which you can really do your best. This company keeps evolving. We welcome anyone ready to tackle new challenges together with us.