Staff Members that Support Oak Lawn Marketing
Shoko Tsuji Video Production Joined OLM in 2011
Keep challenging, keep evolving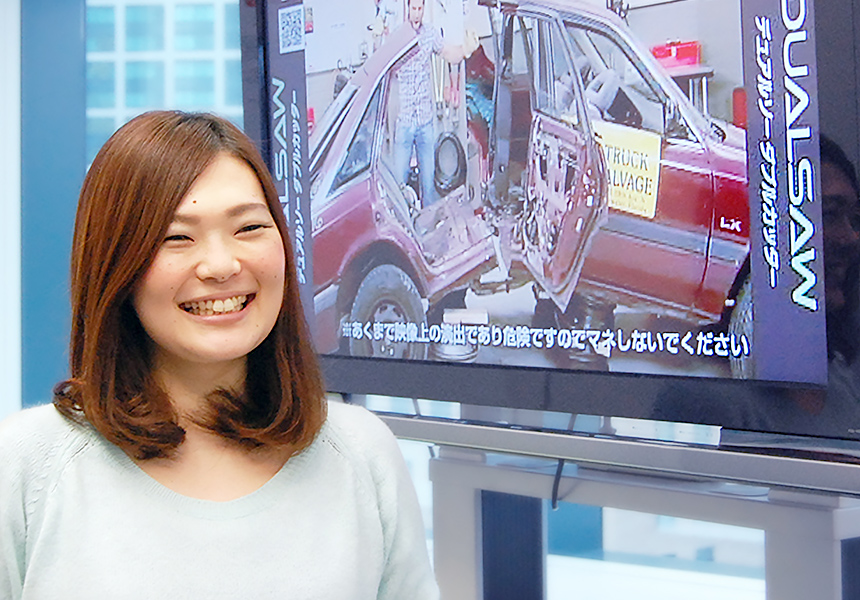 What inspired you to choose OLM?

I chose OLM because I wanted to work in a field related to video. I was especially interested in the idea of conveying information through video to make money. Likewise, OLM is also a place where women and young adults can really thrive and play key roles. There are opportunities to work with people with different nationalities, and the job rotation system ensures that the staff are exposed to different types of work and have a chance to develop as individuals. These were qualities I didn't see often in other companies when I was applying for jobs, and are why I felt drawn to OLM.

What can you tell us about your current work, in terms of your primary mission and roles?

I'm mainly responsible for producing infomercials that are broadcast on TV. We aim to create videos that draw in new customers and get them interested in our products, with the end goal of getting these customers to buy them. To that end, we meet with production companies and strategy teams to work out what video content and particular advertising focus will resonate the most with customers. In the end, we put everything together to produce impactful commercials that help reel in the sales.

What interesting or appealing factors do you think are unique to OLM?

I feel that OLM is a place where you can always challenge yourself to try new things and keep on evolving. While I believe it's important to learn from the past successes of others and follow in their footsteps, I feel it's even more important to come up with new things and give them a try. The door is open to anyone who can think of a new method for commercial success, and they'll be given a chance to try it out. There's a certain responsibility that comes with this, but that is one of the reasons why this job is satisfying.

How have your impressions of OLM changed since you joined, and what has made you glad you joined?

OLM has a good orientation program for new employees. The on-the-job training system, the mentor system, and other programs create an environment in which new employees can learn their jobs free of worry. I had a lot of different things on my mind before joining OLM, such as what it meant to be a working adult, and worried about whether I'd be able to adapt. These programs wiped away those concerns when I began work. The environment at OLM also lets you try out new things, pick up things on the job, and learn from your mistakes. Sometimes you may find yourself worried about things, but there is a good support system that encourages you to do your best, leaving you with a great sense of accomplishment when you complete a task.

What specific thing has given you the greatest delight or sense of satisfaction in your career?

My section works on producing videos for infomercials that will broadcast all over Japan. We receive input and feedback from a lot of different people, and consult with production companies on how to create videos that resonate most with customers. Before we enter production, we think about ways to promote the appeal of the product and what sets it apart from others. Sometimes things don't go exactly as planned and put us in a bit of a tight spot, but that's because everyone loves the products we're working on. It's a great feeling to finish up a video and then watch it get everyone in the company talking. I was especially happy when the first project I worked on as the main producer, an infomercial for the new Dualsaw Dual Blade Cutter, was broadcasted across Japan.

If we are to achieve the WHY of Shop Japan, employees need to be happy. Based on this thinking, what specifically do you do to stay happy?

On weekdays, I hit the gym and go for jogs around the Imperial Palace in downtown Tokyo. Exercise helps to reinvigorate the mind. After that, it's fun to have a few drinks with co-workers in a setting that is very different from work. On my days off I like heading to hot springs and going on small trips. While I'm pretty much always on the go, these little breaks help me try harder at work.

What advice would you give students and others hoping to work at OLM?

Be yourself in the interview. Don't put up a strange front or try to be someone you're not. The best way to get your thoughts across is to speak in an energetic manner. You'll run into setbacks, but always remember to smile. Don't be afraid of making mistakes and always face your problems head-on. OLM provides opportunities to everyone, even new personnel. I would definitely encourage people who really want to give this kind of thing a try to apply to OLM!