Staff Members that Support Oak Lawn Marketing
Mayankh Umamaheswar Product Development and Planning Joined OLM in 2013
A multi-cultural and multi-lingual atmosphere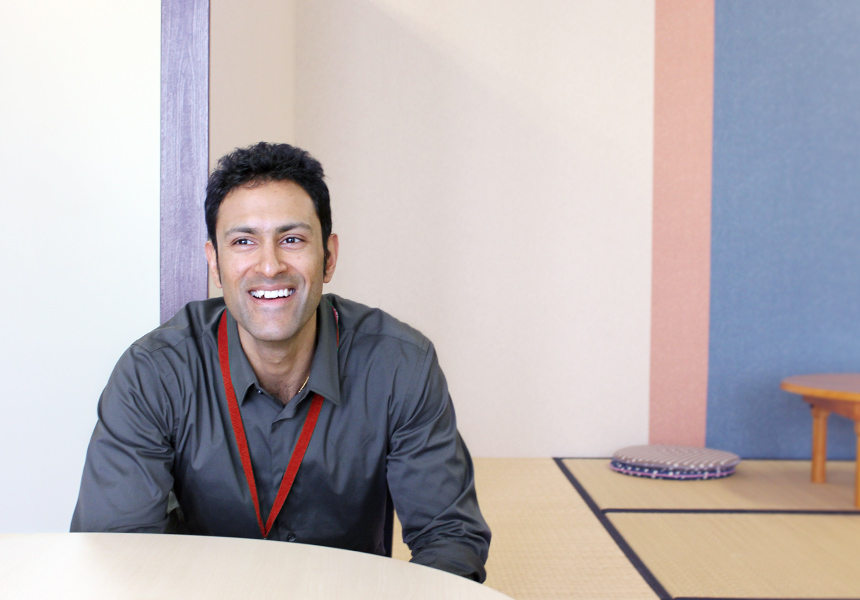 What can you tell us about your current work, in terms of your primary mission and roles?

I currently work for the US team in the product management section. We monitor overseeas markets to find products selling well there that we feel will enrich the lives of Japanese customers, and then lay the groundwork to sell them here in Japan. We stay in close contact with overseas suppliers as we determine the release schedule, and then provide support for carrying this schedule out. After the products are released, we ask the supplier to share the best practices for successful sales overseas with us, and then draw up a strategy for applying them here in Japan.

What interesting or appealing factors do you think are unique to OLM?

I'm fascinated by the company's multicultural, multilingual atmosphere. Sitting at my desk, I hear people around me speaking Chinese, English and Japanese. I really feel that I'm working for a global firm. I believe that Oak Lawn Marketing acts as a bridge between different countries by sharing overseas cultures with people in Japan. The appeal of OLM lies in its ability to combine ideas from other countries with the Japanese spirit of hospitality to create products that enrich customers' lives.

How have your impressions of OLM changed since you joined, and what has made you glad you joined?

Before joining, I thought OLM would be a stereotypical Japanese company, like the kind you often see on TV. For example, I assumed you had to call people above you by their position title, such as bucho (department director) and kacho (section manager). In reality, that wasn't the case at all. The company has an open culture in which people can speak frankly with each other, regardless of their position.

If we are to achieve the WHY of Shop Japan, employees need to be happy. Based on this thinking, what specifically do you do to stay happy?

I think it's important to lead a healthy lifestyle. Shop Japan's lineup features a lot of products that support a healthy lifestyle, and I have tried many of them since I joined the company. For example, I actually began to lose weight after I started drinking the juice made with Shop Japan's Nutri Bullet. I noticed a clear difference. After work, I go to the gym, and on my days off I go snowboarding or play some other sport. I'm pretty happy because I can approach my work each day feeling refreshed.

What advice would you give students and others hoping to work at OLM?

Oak Lawn Marketing is a market leader in a very interesting and dynamic industry. I think it really suits people who are globally minded and take an active approach to their work. Work with us and try out some of Shop Japan's unique products from time to time as you move forward with your career! Together we can enrich the lives of everyone.